Portion for Orphans Newsletter
December 11, 2005
Deuteronomy 24:17-21 "When you reap your harvest in the field, and forget a sheaf in the field, you shall not go back and get it; it shall be for the stranger, the fatherless, and the widow, that the LORD your God may bless you in all the work of your hands." Thanks to all of you who have, as Moses challenged the Israelites to do, set aside a portion of your earnings for fatherless children. The pictures below will hopefully speak a thousand words to you. The portions you have set aside are being used in this way.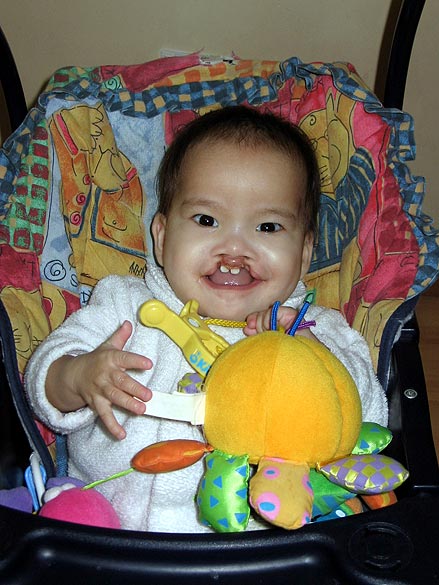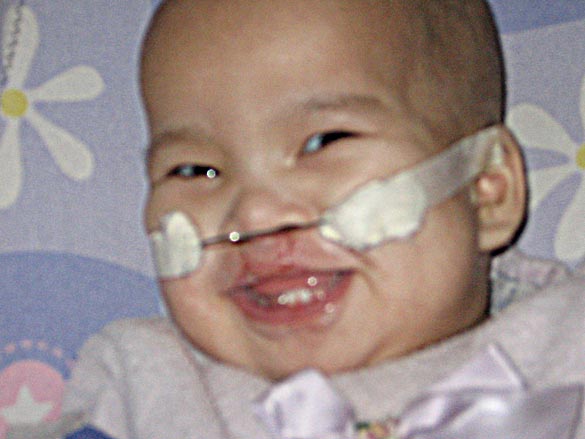 This was our last week with China Care and it has been a real good one… there's no other way I would rather spend my days than with these children. Josh has been spending time each day with Jun Ping and the toddlers. It is really special to see her light up when he walks in the door. An American woman is working on adopting her so she is waiting to go home. :-) I've been spending mornings in the baby room and then working on the children's photo albums. Each child has their very own album and the volunteers here try to keep them updated. In the afternoons, I've been teaching English to the children in Foster Care and helping them with different activities like making Christmas Trees. Learning the letter A and making a Christmas tree is not going to change their lives significantly, but it does bring them joy and let them know that they are very special. These may seem like little things that we're doing, but I believe that they are big in the eyes of the children, as well as in the eyes of God. We are also, in every minute, learning more about the children as individuals, what their lives are like, what they do need, and if the way this program is set up is a good model. Numbers change around here pretty often, there are now 9 children in Foster Care. You can see 8 of them in the picture below with their teachers and 2 of the host parents.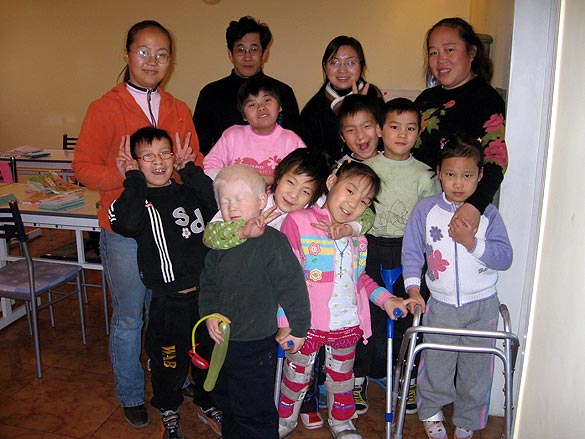 Early next week, Josh and I will finish up our time with China Care and leave Beijing. Throughout the rest of December, we will be in various cities in China, heading south to Xiamen, and then west through Chengdu and into Tibet, "The Rooftop of the World." From there, we head to Kathmandu, Nepal where we will be working for the month of January at an orphanage through an organization called HopenHome. Here's their website if you would like more info, http://www.hopenhome.org.
As we travel, we usually stay in hostels and sleep in rooms with people who are literally from all over the world. This aspect of our trip has been one of the most interesting and thought provoking. Whether they are discussing their religion, lack there of, or about their face to face encounters with the Israeli conflict and how it affects their life, or about America and what they think of our president, whatever the topic… it's quite an education to say the least and provides for many opportunities to share about things that are important to us as well.
Thanks again for your prayers… We are very thankful for an incredible month with China Care, all the opportunities we've had, how safe we have been, and the ways in which God is growing and leading each of us as we're in a world that brings challenges that are different than those we face in our own comfort zones. Please continue to pray over the next few weeks. Though we will not be working at an orphanage, we will be meeting many people. Please pray that our minds would be set on Christ and that we would represent Him well, and that we would be prepared for Nepal. Also, 3 children left for the hospital this morning for surgery. One of them is Gui Lu, who I sent a picture of last week, the one whose eyes look like ours. :-) Please pray for the surgeons and for the quick recovery of the children.