Portion for Orphans Newsletter
October 27, 2006
"And His children will have a place of refuge." - Proverbs 14:26
Thanks ... for partnering with Portion for Orphans as we heed the Biblical commands to reach out to, provide for and minister to orphans.
This week I've spent some time volunteering and learning about New Life Home Trust in Nairobi. Here is a picture of what New Life does...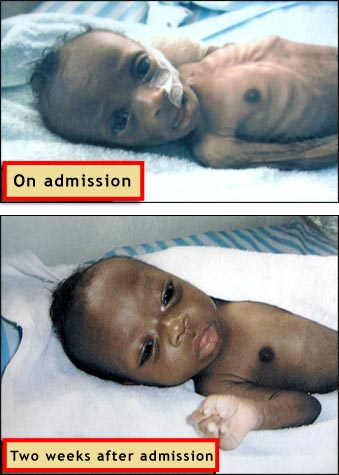 They take in orphaned, abandoned, and HIV positive babies. Very few, if any homes, would dare take on this task, but when these American missionaries realized that even orphanages were refusing these children, they responded. They've taken in over 800 babies so far. With care and medical attention, 90% of them have gone from HIV positive to HIV negative. 100% of those remain negative today. Over 500 have been adopted into loving homes, and all are up for adoption. I wish that each of you could spend a morning holding these infants and feeding the toddlers... it's truly amazing to have a part in this. You can see pictures and learn more at www.newlifehometrust.org
Below is a picture of the soccer match from last weekend. Catherine prepared and appointed me to pass out about 150 John 3:16 diagram booklets that we were able to get printed. Seeing the peoples' interest in and response to the diagrams let me know that I really was passing out the best news that I could ever share with the people here. The whole village was talking about what a success it was. And I firmly believe that the gospel shares the hope and wisdom that many people around here need in order to keep their families together.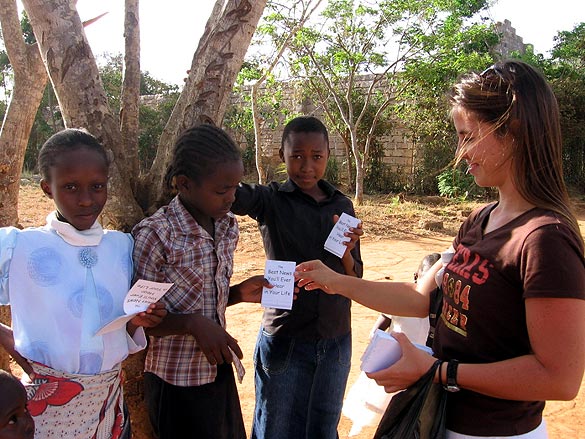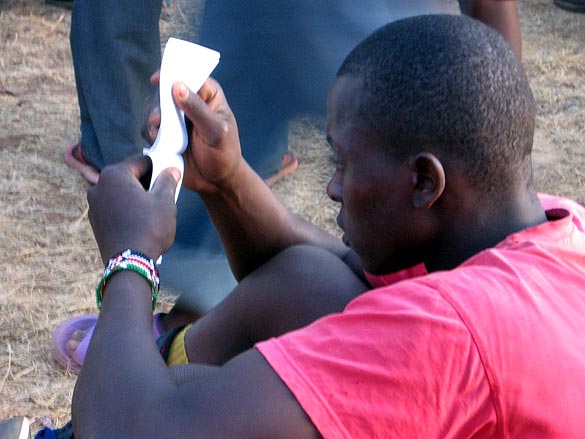 Over the last few weeks, I've also had the opportunity to teach three Bible classes to a group of about 20 needy women that Catherine's ministry is reaching out to. They're really open to learning what the Bible says about receiving eternal life and they've even made a list of topics they want us to cover from a Biblical perspective. I'll be teaching them a few more times before I leave. God is increasing my compassion for these women and I'm already finding myself planning for return trips. :) Here are a few of the women's comments concerning what they learned: "That he who believes in Jesus has everlasting life. -Jn 6:47" "That looking to God can help us in this life." "That good deeds won't get me to Heaven." "That if I read, remember and do what the Bible says, that I'll be blessed in what I do. (Js. 1:25)" :)
Thanks, Cypress Valley Bible Church, for sending me here, and Portion for Orphans partners, for helping us to help orphans. 100% of your donations to Portion for Orphans go directly towards meeting needs of the orphans. :)
Prayer Requests:
Praise for finding New Life Home Trust and wisdom for assisting them and deciding whether this should be one of the main orphanages that Portion for Orphans supports.
An opportunity to respond to Africa Inland Orphanage's request for the spiritual needs of the children to be addressed.
Final translation work and printing of John 3:16 gospel diagrams in Swahili and Kikuyu.
For the Nepali girls, and everyone I'll be working with there, who I'm so looking forward to seeing again. : )