Portion for Orphans Newsletter
November 8, 2006
" ...plead the cause of the poor and needy." Proverbs 31:96
Thanks to all of you who have helped Portion for Orphans, in any way, to be able to meet needs of poor and needy children. : )
Many babies in Kenya are born underweight to HIV positive mothers. Since they inherit the mothers' antibodies, they are extremely vulnerable to diseases such as pneumonia and TB, which their weakened immune systems struggle to overcome. Although tests show they are HIV positive, this is normally only due to the antibodies, and with time, medical care, and not being breast fed, they can become healthy babies within a year or two.
Jennifer is a baby who was taken from the hospital by New Life at age 10 months, weighing 6 lbs. This is common in Kenya. However, since adoption rates are down due to difficult adoption requirements, and since space and funds are limited at New Life, when they are called to pick up the next abandoned baby, they will have to refuse. Many babies left in Kenyan hospitals... are sold, either to human traffickers or the modern day slave trade.
Though we cannot help every child, the fact that we are one of many organizations having a great impact on almost 1000 right here in Kenya is really something to smile about. Thanks again for helping us to help orphans by setting aside a portion that allows us to make donations to New Life and AIC orphanages.
To see pictures of New Life, please visit www.newlifehometrust.org and click on photo gallery.
My time in Kenya also allowed me to lead 5 Bible studies for the women you see below. They were so appreciative for what I was able to teach them about the gospel, as well as what the Bible says about marriage and family.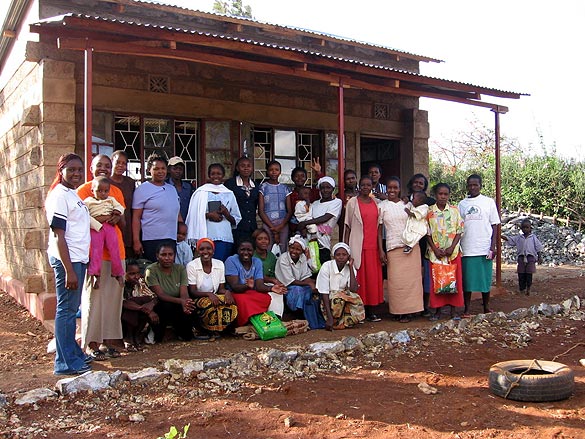 Thanks to CVBC for the extra you sent along with me for Catherine's Acres of Mercy Ministry. It allowed us to have 350 John 3:16 diagrams printed, as well as to donate a little towards various other projects that took place during my time there. The people of the village were very grateful .
By the way ... I'm writing to you from Nepal. : ) I have moved in with the girls at Parijat Nestling Home on Monday. I'm so excited about all that this month will bring, including spending time with girls, teaching them Bible as they requested, and taking part in the salon training center program.
Please be praying about the following:
The work that was done in Kenya, that God would allow it to make a lasting impact for the orphans and the families I worked with.
For God to prepare me, equip me, and use me to answer prayers and meet needs for the girls here in Nepal.