Portion for Orphans Newsletter
December 13, 2006
Dear Friends,
Thanks so much to all of you who allowed me to carry your donations to Kenya and Nepal. Thanks to Cypress Valley Bible Church for sending me and making it all possible. Thanks to God, I've returned safely to the US, and just in time for Christmas. : )
The trip was beneficial in so many ways. One of these includes having found New Life Home Trust Orphanage in Kenya. You all sent quite a donation along with me that will further enable the care they provide to hundreds of young Kenyan orphans, many of whom are HIV positive. You can learn more about that orphanage at www.newlifehometrust.org. I was also given the opportunity to teach Bible and to share about Christ and to explain the gospel many times. : )
My time in Nepal was... surreal. The girls put me on the schedule to sit and tell them Bible stories, to sing and to pray with them, every other night. This is in a country where less than 1% of people are Christian. Most of these 50 girls are children of inmates, so they have lots of issues to deal with and they found the Bible study and the Character Education class very inspiring. The swimming lessons and crafts also turned out to be really good for the girls. These activities challenged them to express their individuality and to think for themselves, which is not common in the education systems of most 3rd world countries. I was able to see them begin to shine in each of their own special ways. They asked me to tell all of you, Danyehbad (Thank You). If you would like to sponsor one of these girls, which would cover the cost of their care and education, please let me know. They are among the most impressive, self-disciplined girls I have ever met, and beautiful too right?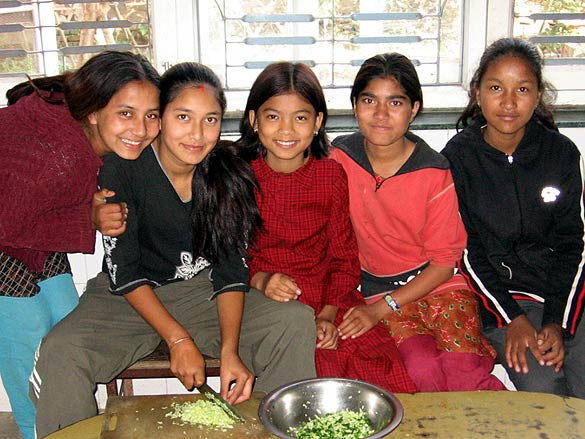 On January 2, I'll be sharing more at a missions lunch at Cypress Valley Bible Church in Marshall, TX. Everyone is welcome to come.
You'll also be hearing more about the upcoming Hope Run that will be held on January 13th, 9am, downtown on the square in Marshall, TX. You can run 3 miles or walk a mile, or just come to get a t-shirt and show your support. : ) I'd love to see you there! If you, or your business would like to be a Hope Run sponsor, to help us cover the low cost of the event, please let me know. The event will raise funds primarily for orphanages in China and Kenya.
Again, thanks so much for joining in as we heed the Biblical commands to help orphans. : )
Sincerely,
Sally Allred