Portion for Orphans Newsletter
February 12, 2007
The 4th Annual Hope Run in Marshall, Texas on January 13th, 2007 was a huge success! It's awesome to see so many people taking part in helping to meet needs of orphans overseas. Thanks so much to all of you for helping in so many ways!!! And Praise God that the '100% chance of thunderstorms' predicted by the weather forecasters for the morning of the Hope Run did not become a reality. : )
We had 89 runners and walkers, lots of volunteers and we raised just under $5,000!!! 100% of that will directly benefit orphans in the orphanages mentioned below. (Donations do not cover administrative or travel expenses of Portion for Orphans Directors or the cost of the Hope Run).
Children at Hope Foster Home in Beijing, China; New Life Home Trust in Nairobi, Kenya; and China Care in Beijing, China are among the major beneficiaries of this year's Hope Run. Please take a moment to see the pictures illustrating their work below:
This is Dr. Joyce and her husband, founders of Hope Foster Home in Beijing. They are casting the legs of a young orphan who was born with club feet. www.hopefosterhome.com

This is Eva, 1 of 800+ New Life Babies. She lives at the Nairobi New Life Home.
www.newlifehometrust.org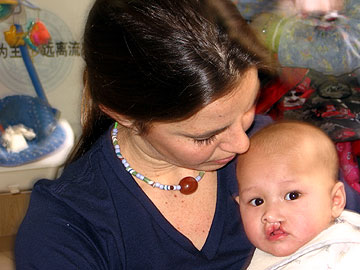 This is Gui Lu, at China Care Orphanage in Beijing. www.chinacare.org. By now, Gui Lu has probably had the $500 facial re-constructive surgery. Last year, you all funded that surgery for the 3 babies below:
Now we are ready to determine which needs to meet with the portions you've given. This is the best part and we'll make sure to keep you informed of the progress. : ) Please be praying along with us as we correspond with the orphanage directors.
If you are interested in getting more involved in this kind of work, take a look at the website links above, there are lots of options for sponsoring children, sponsoring orphanages, volunteering, doing fund raiser events, even options for adoption and getting financial assistance for that. Let me know if I can help in any way.
If you didn't make it to the Hope Run but would like to make a donation, you can send that directly to "Hope Run -- Sally Allred" to Citizens National Bank, P.O. Box 938, Marshall, TX 75671.
You guys make all of this possible ... thanks! And a HUGE THANKS to all of our volunteers, participants, donors and sponsors. In particular, we would like to recognize the following sponsors (listed in alphabetical order):
Applebee's
Bodacious
East Texas Sports Center
Homero's
Jalopeno Tree
KMHT

Marshall News Messenger
Super One Foods - Marshall
Texas Bank and Trust
The UPS Store, Marshall
Wal-Mart
For the little ones,
Sally Allred
Portion for Orphans Founder/Director