Portion for Orphans Newsletter
April 20, 2008
In this issue:
---
What your donations are accomplishing in Thailand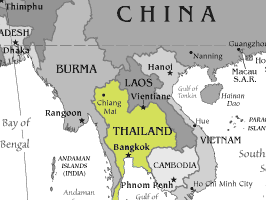 Portion for Orphans' Founding Director, Sally Allred Lockett, and Katie Allred are currently spending a few weeks visiting orphanages in Thailand. All three of the homes are founded by Mercy International, a non-profit, Australian-based Christian organization. www.mercy-international.com. This is our first visit to Mercy International. So far we have spent a few days visiting with the children and staff at the home in Khon Kaen, Northeast Thailand, which is known as one of the poorest provinces.

The center in Khon Kaen is home to 38 precious children between the ages of 5 and 16, each of whom is HIV positive… but you would never know it. The government, that didn't expect the children to survive past 8 years old, suggested that the home be somewhat of a hospice center. The oldest girl has been so well cared for and prayed over that she has already doubled that expectancy. She is beautiful, strong and very intelligent. The center is looking to purchase land and to construct a new home that will consist of small family groups for the children.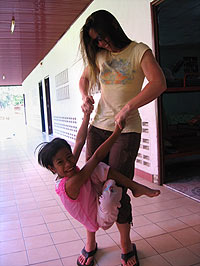 On day one, 7 year old Nock ran and jumped up into my arms. Her mother died when she was only a few months old. Her father and blind grandmother cared for her until her father died and the woman could no longer afford or manage to provide. Someone took the grandma in and Nock was sent to the orphanage. She is very sharp and strong, and my new little friend. During the daily devotional time today, she curled up next to me and I put my arm around her. She saw and wiped away the tears that streamed down my face as I pondered being a young child without a mother or father of your own. I would carry her home if it were allowed, but these children are not available for adoption. However, they are receiving wonderful care here in their own culture. The directors are incredible… but they need our help to provide all that the children need.
We've just donated $1,000 to assist 40 orphans as they start a new school year. These funds will help pay school fees, purchase much-needed school supplies, uniforms, and school lunches.
WHAT MORE CAN YOU DO? The children in Khon Kaen need sponsors, and everyone involved, children and staff, need your prayers. For more info, and to receive updates from Mercy International, visit www.mercy-international.com.
---
Donations
IMPORTANT!!! Previously, your donations could be sent directly to the bank. We are asking that any donations made from now on be written out and sent to :
Portion for Orphans
P.O. Box 458
Marshall, TX 75671

You may also leave your donation to Portion for Orphans at the office of Cypress Valley Bible Church in Marshall, TX.
100% of you donations directly meet the needs of the children, unless you specifically designate them for another purpose, such as administrative or travel expenses. If you would like your donation to be used for administrative and travel expenses, please note that on your check.
---
Hope Runs

If you are interested in helping to organize a Hope Run, we'd love your help!!! The Hope Runs are our main fundraising and awareness events. We are currently organizing a Hope Run for Austin, TX in September and for Marshall, TX in January. We are seeking committed individuals and sponsors for those events, as well as anyone with race experience who'd be willing to direct an event. Learn more at www.hoperun.org.
For kids that the Bible says it is pure religion to visit and help provide for,
Sally Allred Lockett
Founder/Director, Portion for Orphans
www.portionfororphans.org