Portion for Orphans Newsletter
May 5, 2008
"… love others as I have loved you." – Jesus
In this issue:
---
Latest news from Thailand
Portion for Orphans representatives, Sally and Katie, have been visiting Mercy International's children's centers in Thailand for 3 weeks now. Here's the latest news.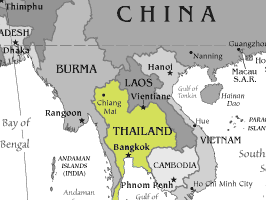 We spent one week at the 2nd center in Northern Thailand, which is the main home, called Ban Meata Petchabun. It is actually not just a home, it is a children's village complete with a Christian school and various agriculture and farming projects. It is so big that it is actually a legal village on the map now. They have about 10 houses for 100+ children, a beautiful large Christian school that will soon expand to include university courses, a fish farm including two ponds which currently hold 14,000 red tilapia, acres and acres of every kind of tree you can imagine and a cattle program that encourages the sponsors to donate a heifer to their child. The child receives the heifer and every 2nd calf when they leave the home. This could enable them to inherit up to 10 cows. All of these programs are expanding, so if you're interested in helping with anything from sponsoring a child, funding a new fish pond, teaching ESL, or purchasing a heifer for one of the children, I'd be happy to help you get more information or you can check out their website [www.mercy-international.com].
School building
Farming
Fish pond
Heifer Project
Many Thai children become orphans as a result of poverty, AIDS, and the breakdown of families. This is a culture that places very little value on children. In many cases, when a family falls apart in Thailand, the new husband will require that the mother not bring her own children along. It is also a culture in which people do not understand HIV and how it is transmitted. The people here are poor and single mothers have much difficulty providing for themselves, much less children as well. As a result, many children end up in orphanages. Many others end up forced, even sold, into prostitution, as young as 7 years of age.
The children were on school holidays during our time at the village and many of them went to visit friends or relatives. We've had lots of time to spend with those who had no one to go visit and we've been doing swim lessons and crafts. They speak very little English, so it's been interesting, but fruitful. : ) The directors are Christians and it's been neat to see how so many of the Thai workers, and children, in this predominantly Buddhist nation, have become believers as a result.
We took groups of about 12 kids at a time to the pool and they LOVED it. It is the hottest time of the year here, way hotter than in Texas. The pool itself was quite a discovery, two lap pools and a kiddie pool. The older kids caught on very quickly and the finale was a very exciting relay race. It is neat to see the kids cheer each other on, that's uncommon in this culture. You can see pics below and view quite a few more by following this link: picasaweb.google.com/sallyanneallred/Thailand.
Katie has been in charge of gathering and planning the crafts. We decorated flips flops, made neclaces with the older girls, and painted lots of toenails. That's a treat in America, but even more so here as each girl has almost no personal belongings. It was very obvious that they all felt special, they even made us some beautiful thank you cards expressing how happy they felt.
We discovered that the most urgent need at the Ban Meata Village was for a new transformer. They need more power to run the homes, to draw water from the bore holes for drinking, bathing, washing, cooking, and for the cattle and the grounds, as well as to run the school. Some funds had been given, but they lacked $6,500. Portion for Orphans is donating that amount. Thanks to all who've given, the transformer should power the entire center for 20+ years.
---
Portion for Orphans is looking for a CPA
We are looking for a Certified Public Accountant who would be willing to work with Portion for Orphans on an ongoing basis to help us maintain the highest levels of financial accountability and transparency. More specifically, a CPA would help in preparing regular financial statements, ensuring compliance with applicable regulations, and providing counsel on issues related to accounting and financial management.
If you are a Certified Public Accountant and would like to help, or know someone who would be willing to assist Portion for Orphans in this important area, please e-mail us at portionfororphans@portionfororphans.org.
---
Donations
IMPORTANT!!! Previously, your donations could be sent directly to the bank. We are asking that any donations made from now on be written out and sent to :
Portion for Orphans
P.O. Box 458
Marshall, TX 75671

You may also leave your donation to Portion for Orphans at the office of Cypress Valley Bible Church in Marshall, TX.
100% of you donations directly meet the needs of the children, unless you specifically designate them for another purpose, such as administrative or travel expenses. If you would like your donation to be used for administrative and travel expenses, please note that on your check.
---
Hope Runs

If you are interested in helping to organize a Hope Run, we'd love your help!!! The Hope Runs are our main fundraising and awareness events. We are currently organizing a Hope Run for Austin, TX in September and for Marshall, TX in January. We are seeking committed individuals and sponsors for those events, as well as anyone with race experience who'd be willing to direct an event. Learn more at www.hoperun.org.
---
It is amazing to see God inspiring people to do this work. I wish that all of you could be here with us.
On behalf of orphaned and abandoned children,
Sally Allred Lockett
Founder/Director, Portion for Orphans
www.portionfororphans.org