Dear Portion for Orphans Partners,
Deuteronomy 24 emphasizes the importance of sharing with those who are in need. It pleases the heart of God when we do what we can, no matter how little that may be. Thanks for partnering with us. Together, we ARE making a difference and your support makes that possible!
Panzer VBS Follow-Up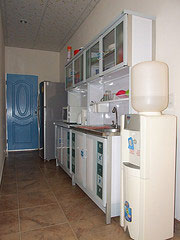 In August of 08, the Vacation Bible School program on Panzer Military Base in Stuttgart, Germany raised $5,800 for Portion for Orphans! CVBC and many other supporters also contributed, and we were able to send $10,000 to furnish one home in a new children's village in Phrae, Thailand.
These funds have completely furnished every room of what will soon be home to more than 20 orphans. This includes all kitchen appliances, fans and hot water heaters… you name it! It also enabled them to build a fence. This center is one of three founded by Mercy International.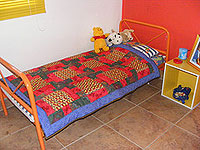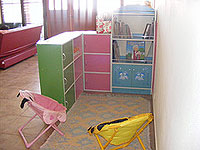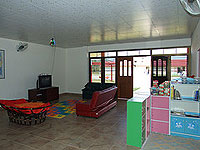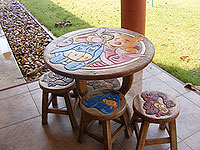 Special Christmas Project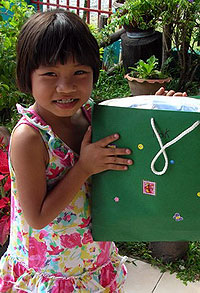 At Christmas time, due to a loss of 30% of their support base over the last year, the Christmas celebration at an orphanage in Khon Kaen, Thailand was cancelled. The director Wendy, an Australian missionary, said that they were struggling to cover the cost of food, electricity and water for the 38 children they oversee. Thanks to a very special family in Germany, and many other donors, Portion for Orphans was able to send a $5,000 donation. This enabled a very meaningful Christmas celebration and is helping to cover the costs of food, electricity and water as well. These children know that the support is coming from friends of mum Kate and Sally miss, who are Christians. What a special way to share the love of Christ around the world. I want to also share that these 38 HIV-positive orphans in Thailand are asking for a trampoline, are there any cheerleaders or gymnasts out there who want their team to do a special fundraiser?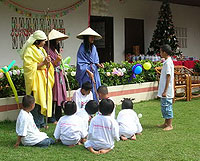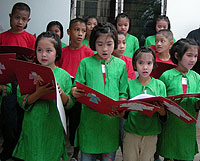 ROCK Kids Feeding Orphans
Thank you to the kids at Stuttgart, Germany's Patch Chapel Sunday School program, ROCK. Since July, they have raised $1,060 to help provide nutritious meals for orphans in Khon Kaen, Thailand, whom you see below. In Thailand, it costs $1 to provide 3 nutritious meals to a child. $1 per day! The Rock kids have raised enough to provide 3,180 meals to orphans in Thailand. Khap Khunka ROCK kids!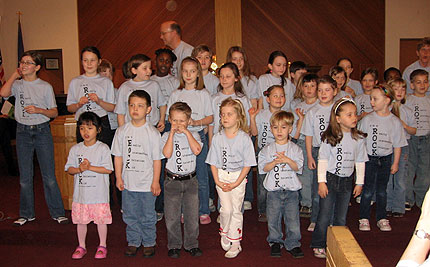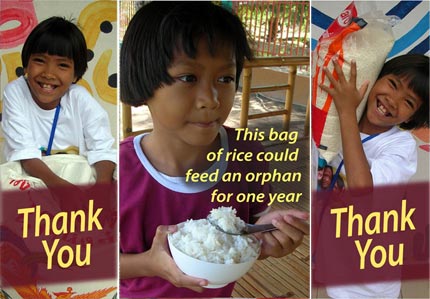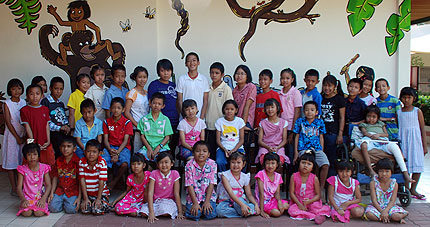 2009 Hope Run &Walk
On January 31st, 2009, 194 participants and over 20 volunteers came out to take part in our 6th Annual Hope Run & Walk in Marshall, TX. More than $5,000 came in during the weeks surrounding the event, and many new people have signed up to receive these updates, bringing our mailing list to 490 subscribers. Thanks to all of you who participated and volunteered. Your enthusiasm even got us on the local news channel and we are now being asked to come and do presentations for different groups in the Ark-La-Tex! If you would like a representative to come to your area and share about Portion for Orphans, please contact us. To view the Hope Run results, see http://hoperun.org/results2009.aspx. Way to go Luis Corona, 17:41 and Natalie Bach, 21:45!
A special THANKS goes to:
Garber Farms in Iota, La for donating 100-2lb bags of specialty rice. We are selling this rice at all events, 100% benefiting orphans. If you bought rice and would like more, please contact us. All kinds of portions are coming in!
John Goodding and Amy Paige at www.289design.org
John Kay for his work on the Portion for Orphans DVD. www.etexasgrafx.photoreflect.com
Marshall, TX UPS Store for print work.
All who donate to administrative/travel expenses, you make it happen!
Prayer Requests
Please pray for orphans, their needs, their safety, and for the rescue of those who are not in safe places.
For various groups who are considering taking part in Portion for Orphans fundraising and awareness.
Guidance, preparation and safety for PFO trips, China in May.
PRAISE God for increasing our support base and growing/blessing this ministry.

On behalf of orphans,

Sally Allred Lockett <><
Founder/Director, Portion for Orphans
www.portionfororphans.org