Dear Portion for Orphans Partners,
As a team, we all are expanding rapidly and your generosity towards orphans is MULTIPLYING! Here's a look at the fruit of your giving!

Vacation Bible Schools Raise Funds for Orphans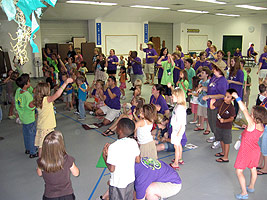 Vacation Bible Schools raise funds for orphans
Over the summer, two VBS programs on military bases in Germany hosted PFO fundraisers. Around 350 kids and 200 adults learned all about PFO and
New Life orphanage
in Kenya. Funds were raised toward covering the cost of medical care for more than 170 orphans in Kenya. PFO's recent project has been to raise enough funds to cover New Life's 2010 medical expenses, which average $25,000 per year.
Way to go Patch and RB VBS participants, you all raised a total of $4,800! Read on, we have since reached our goal!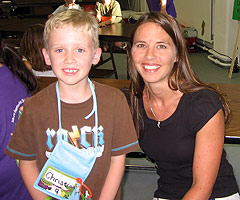 Christian Lewis, for the 2nd year in a row, set out to get the whole community involved through his own brownie awareness project. He raised more than $120! Way to run with it Christian!
Thailand Trip
In August, my husband, Casey, and I took a vacation to Thailand. We spent the first week visiting more than 150 children that PFO serves at 3 Mercy International centers across Northern Thailand. The standard of care that Mercy is providing to vulnerable children in Thailand is exceptional and we are so grateful, along with you all, to be further expanding their work.
Children who do not have moms and dads of their own are thriving in this Christ-centered environment full of love and acceptance. Our commitment to support their work was affirmed in every way. We are hoping to fund a covered playground, including play equipment and a small built-in library, for the kids in Petchabun, Thailand. The cost of this project is $20,000. Please consider if you are able to help us make this a 2009 Christmas gift

.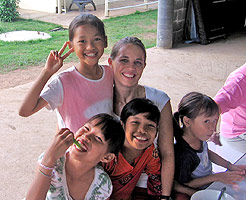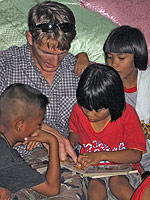 Sally and Casey Lockett visit orphans in Thailand.
For more info and pictures, please visit the PFO blog at www.portionfororphans.blogspot.com.
China Trip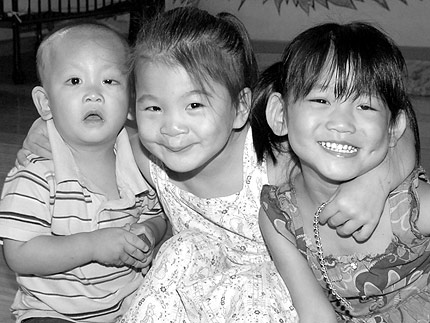 John Kay, from Marshall, TX, recently went to China as a photographer on behalf of Portion for Orphans. John raised his own funds for this trip as well as $3,800 that is being used to purchase coal for New Hope Foundation. This will help keep all the children at New Hope warm throughout the winter, which is especially important considering that New Hope is a foster home for orphans with medical needs. The upcoming Hope Run & Walk (February 6, 2010) will raise funds for New Hope Foundation.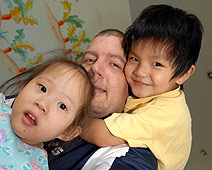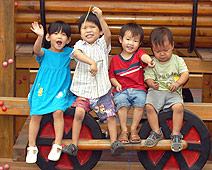 John Kay visits orphans at New Hope Foundation in China.
$25,000 Raised for Kenya Medical Fund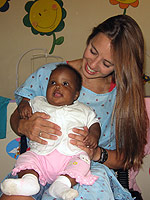 Nina is one of the
orphans rescued by
New Life Orphanage
Yes, you all did it! In July, I revisited
New Life Orphanage
in Kenya and was inspired to focus on fundraising for New Life's 2010 medical expenses. The UK missionaries who founded New Life 10 years ago have literally found and rescued 1,090 abandoned infants who were on the brink of survival. Nearly 800 have since been adopted. New Life has started orphanages in 7 locations around Kenya. The main center in Nairobi is a registered medical clinic that takes in Kenya's most vulnerable babies. New Life's annual medical expenses average $25,000.
Ephesians 3:20-21 says that God is "…able to do immeasurably more than all we ask or imagine, according to His power that is at work in us, to him be glory…" God has once again put his compassion for orphans on display by inspiring you all to give so generously. Thank you!
Hu Jian Lu Receives Cleft Lip Surgery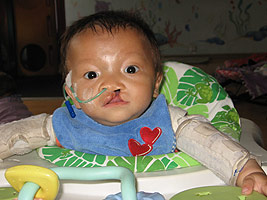 Hu Jian Lu before his cleft lip surgery
In June, PFO funded 5 cleft lip/palate surgeries for babies in China.
You might remember
that Hu Jian Lu was refused due to a lung problem. After various trips to the clinic, he finally received surgery just a couple weeks ago! He's now just over 1 year old and though he's had quite a difficult year, he's gotten so much stronger and is already standing.
Thank you for praying for this little guy, he's such a joy!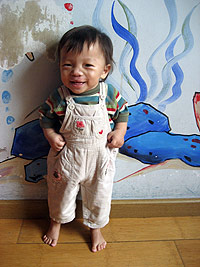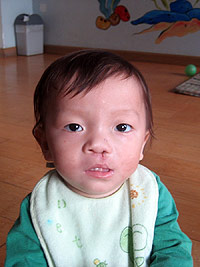 Hu Jian Lu after the cleft lip surgery
Sponsorship Project
Please consider talking with your pastor about a special Christmas project that helps orphans around the world. The project involves putting up a small Christmas tree covered in ornaments that represent individual orphans who need monthly sponsors.
Sponsors help cover the daily needs of their child and receive periodic updates and pictures. Please contact sally@portionfororphans.org for a Sponsorship Project Packet.
Samples of ornaments. View bigger image: front / back.
Hope Run & Walk 2010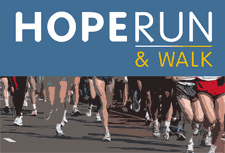 Saturday, February 6th we'll be hosting the 7th Annual Hope Run & Walk in Marshall, TX, at 9am. It costs $15 for adults, $10 for students. 100% of the proceeds will benefit orphans at New Hope Foundation in China. www.hopefosterhome.com.
Please visit www.hoperun.org to learn more and register for the Hope Run & Walk.
Please consider if you can help this year by being a Hope Run Sponsor, Volunteer Coordinator, or an Event Promoter. You may signup online or e-mail sally@portionfororphans.org.
Prayer Requests
One of the orphanage directors is in constant pain due to a spinal condition. Please pray that God would give her, and all the directors, daily strength to continue on.
That God would continue to guide and bless the work of PFO.
PFOs upcoming sponsorship project, for various locations to partner with us in displaying the ornaments.
Thanks for partnering with us!
Sincerely,


Sally Allred Lockett <><
Founder/Director, Portion for Orphans
www.portionfororphans.org