Dear Portion for Orphans Partners,
Stockings Sent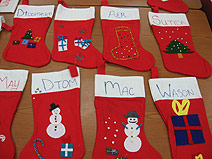 On November 7th, a group of ladies on Patch Barracks, in Stuttgart, Germany, made individualized stockings for 40 children at Mercy International in Khon Kaen, Thailand. The group is called MOPS (Mothers of Preschoolers). The ladies coordinated this project on their own and filled the stockings with everything from nativity scene coloring books to socks and cards saying Jesus Loves You in Thai. AFN, American Forces Network, came out and did a story on the event, which will be aired on military bases all over Europe!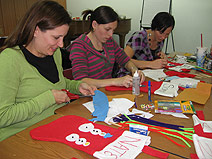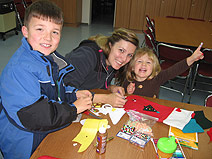 Kenya Medical Fund
Funds have been pouring in to cover the 2010 medical expenses at New Life Home Trust in Kenya. We have now finished this project and will be sending $38,169.60! That will be a tremendous Christmas blessing for the directors and the children and may very well take them beyond 2010! Thank you!
PFO in the News!
Have you guys been praying over PFO? ? This month alone, PFO has been presented internationally to some 400,000 people! That does not include the upcoming story on American Forces Network (AFN)! God CARES so much about these kids. Check out the link to see the story…
Stars and Stripes article – Readership 400,000+
Hope Run & Walk Volunteers NEEDED!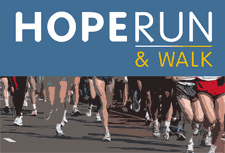 Saturday, February 6th we'll be hosting the 7th Annual Hope Run & Walk in Marshall, TX, at 9am. It costs $15 for adults, $10 for students. 100% of the proceeds will benefit orphans at New Hope Foundation in China. www.hopefosterhome.com.
Please visit www.hoperun.org to learn more and register for the Hope Run & Walk.
Please consider if you can help this year. Here are some OPPORTUNITIES TO SERVE! We need a Volunteer Coordinator, Event Promoters, and race day volunteers. You may signup online or e-mail sally@portionfororphans.org.
Sponsor a Child
Would you like to sponsor an individual orphan's needs on a monthly basis? Depending on the orphanage, this costs between $35-$80 per month, some orphanages request more than one sponsor per child, which lowers the cost. Sponsors receive updates and pictures and are able to send gifts. I've personally spent time in each of these orphanages, they are amazing places! We'd love to know if you sign up.
Click here to sponsor a child at:
Prayer Requests
For orphans around the world, that God would continue to rise up and bless all those who are fighting to provide for and to protect them.
Praise God for a wonderful year of growth and expansion within PFO.
PFO Administration – we are GROWING and need God's guidance daily.
Thank you for helping us display hesed to children all over the world!
On Behalf of Orphans,

Sally Allred Lockett <><
Founder/Director, Portion for Orphans
www.portionfororphans.org