Dear Portion for Orphans Partners,
Surgeries for 5 Babies in China
In December, you all funded the expenses necessary for 5 infant orphans in China to receive surgery! What an amazing display of God's love.

3 of these babies are receiving neurosurgery! New Hope Foundation has sought out the best surgeons for the children they serve, surgeons who will also perform necessary treatment free of charge. Even still, costs incurred per baby, including sending along a nanny, average $650. Here's more info on the babies…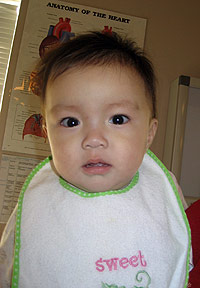 Kelsie Rae is a beautiful little girl born with (Myelomeningocele) Spina bifida. She is now 11 months old. There was a thin skin over her defect on the lower spine and New Hope nurses did a great job keeping this intact. If it had burst, her chances of survival would have been very poor as infection would very quickly get into her spine and brain. Scans showed that her spinal cord was tethered and if not repaired, she would lose the function of her legs, bowels and bladder. Scans of her brain showed that Kelsie was very lucky that she did not have hydrocephalus which is a very common defect associated with spina bifida. She had surgery in Suzhou children's hospital performed by Dr C P Yu from Hong Kong, who is part of the Med/Art team of doctors who provide free surgery for Chinese orphans. Kelsie's surgery was perfect and she is still able to move her lower limbs. She is smart and active and seems to be developing normally.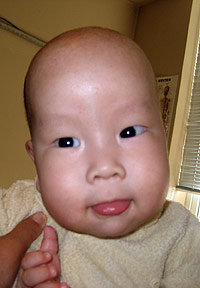 An Ke was transferred to New Hope Foundation in Beijing after his small orphanage requested help for him. He was 3 months old. An Ke was born with a posterior fossa meningocele, which is a sac filled with brain fluid at the top of his neck. His surgery was performed very well, and he suffered no complications. He smiles and responds to his name and seems to be developing well. New Hope is carefully observing his milestones and so far he is going well. He is now 8 months old.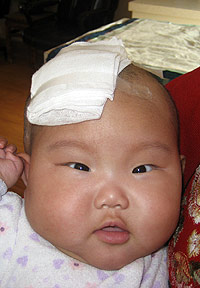 FuDao Hua is a little girl that was admitted to New Hope's Palliative care unit in June 2009, aged 3 days old, with Spina bifida. Her defect was leaking brain fluid and the nurses in the unit did a wonderful job of keeping her defect clean and within a month a good skin had formed over the defect protecting her from infection. She was moving both her legs well giving hope that she would be able to walk. She was also operated on by Dr Yu but she was not as lucky as Kelsie Rae as she had mild hydrocephalus necessitating the insertion of a shunt to drain the access fluid into her abdominal cavity. There was also a suggestion that she may not have good bladder control. She will be sent to Hong Kong in about 3 months time to be reassessed by the surgeons there as far as her shunt and her bladder function are concerned. Her development seems to be on track for the most part. She has a way to go yet but so far she is doing well.
Also funded this month were cleft lip surgery for two children in China. Liu Min Hao has become strong enough to go for surgery soon and hopefully Dang Tian Yi will be ready soon as well. New Hope Foundation has discovered a clinic closer to their home that performs exceptional cleft lip surgeries. The closer location reduces the cost of surgery related expenses to $300 per child!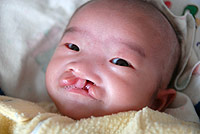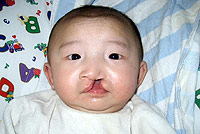 $10,100 Sent to Thailand
This donation will cover 1/3 of the annual school related expenses for 40 orphans in Khon Kaen, Thailand. These children are HIV+ and they attend a private Christian school. They are not allowed in the other schools. The donation will also purchase a Thai Bible for the 10 children who do not yet have their very own. These children are growing up strong, and are strong in their faith.
PFO recently sent special individualized stockings to these same children, thanks to the MOPS ladies at Patch. The children recently held a special prayer time, praising God for YOU ALL!

I pray that you guys get to meet each of these precious children in Heaven one day. My husband Casey & I visited these children last summer, here are some pictures.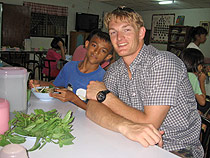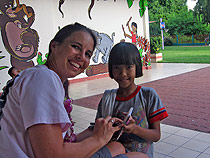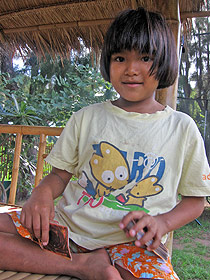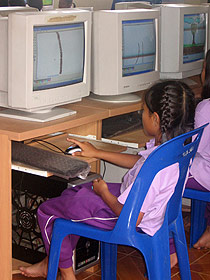 Year-End Financial Report
In 2009, Portion for Orphans' revenues totaled $71,004 and expenses amounted to $74,166 (donations received in 2008 covered the difference). 89% of Portion for Orphans' expenses ($66,006) were used to fund programs that benefit the children directly, and the rest was used to cover travel and administrative expenses. (Note: 100% of your donations to Portion for Orphans go directly to meet the needs of orphans, unless you specifically designate them to cover travel or administrative expenses.)
In 2009, Portion for Orphans focused on supporting children at orphanages in Kenya, China and Thailand by funding medical, nutritional, educational and developmental programs. The following graphs illustrate how Portion for Orphans used your donations in 2009. Thank you for giving your portion to orphans and enabing Portion for Orphans to help hundreds of children around the world!
Expenses by Type
Children's Programs By Type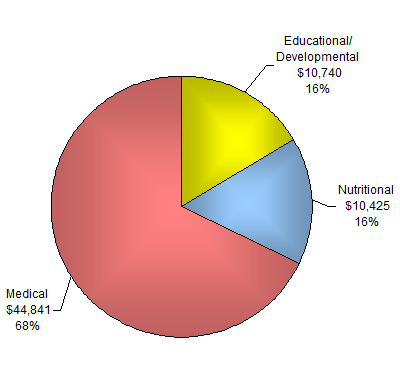 Children's Programs By Country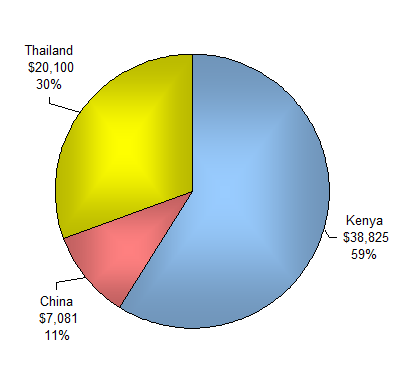 Hope Run & Walk Volunteers NEEDED!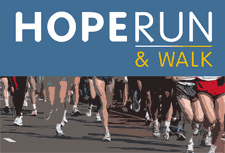 Saturday, February 6th we'll be hosting the 7th Annual Hope Run & Walk in Marshall, TX, at 9am. It costs $15 for adults, $10 for students. 100% of the proceeds will benefit orphans at New Hope Foundation in China. www.hopefosterhome.com.
Please visit www.hoperun.org to learn more and register for the Hope Run & Walk.
Please come out and join us! We do need a few more volunteers, and anyone interested in helping us promote the event can pick up as many brochures as you'd like at the UPS Store in Marshall. You may signup online or e-mail sally@portionfororphans.org.
HAPPY NEW YEAR!
On Behalf of Orphans,

Sally Allred Lockett <><
Founder/Director, Portion for Orphans
www.portionfororphans.org