Dear Portion for Orphans Partners,
We are growing daily!!! Your support, your prayers and even the smallest efforts are all working together to make everything you will read about below possible. I pray that it blesses and encourages you, as it does me, to have a part in this ministry and the lives of these children. The older children pray for 'PFO people', that God would bless you

. This update is full of feedback on how PFO donations are being used around the world… enjoy!!! We are like one big family for these little ones. A recent fundraiser was held in Okinawa even! Wow!

China Follow-Up
Some of the Hope Run 2010 funds helped pay the hospital bill for a little girl named ZT Ren, whom you heard about in the April newsletter. She was born with clubbed foot and suffered from pneumonia.
Dr. Joyce Hill, Director of New Hope Foundation, said,
"ZT Ren is doing much better and getting stronger and healthier. Her asthma and lung problems are well under control. An echogram showed a small hole in her heart but that was not related to her lung problems. The pediatricians at Beijing United hospital have been very helpful with her medical care. We have corrected her clubbed foot and she has finished with her serial casting. Now she only needs to wear braces at night to keep it in position. She is developing well and is within normal range for her age. Below is a recent picture of her."
Isn't she precious!! Thanks for teaming up as a family for this little one.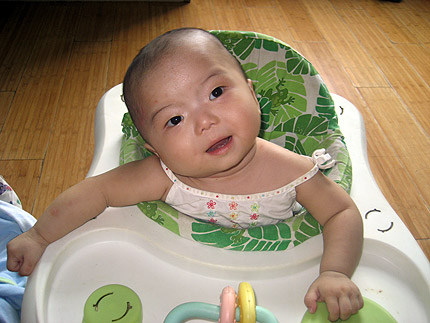 Dear donors to Portion For Orphans,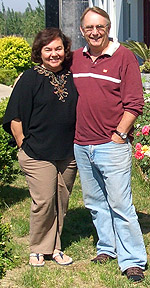 We at New Hope Foundation in China have been one of the very grateful recipients of your generosity. Your gifts have made a tremendous difference to the children we care for. We take in the least of the least, the sickest, the dying and the ones in great need of medical care to save their lives. Your gifts have helped us to do this. Today New Hope Foundation cares for more than 200 such infants in the 5 units that we run in China and by giving them the care they need, we have been able to save many who have gone on to be beloved, chosen children of loving families.
On behalf of the children and the families who now raise them, we thank you for helping us save them.
Gratefully
Robin and Joyce Hill
Dr Joyce Hill MBBS FRACGP, AM.
Director
Kenya Follow-Up
In 2009, SO MANY of you donated to help cover the 2010 medical expenses of children at New Life homes, in regions all over Kenya. New Life primarily takes in babies who are in the most critical condition, babies that no other centers can afford to take in. Your donations continued flowing in enabling a total of $38,771.80 to be given!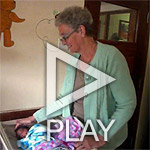 Only PFO donates specifically for medicines and medical expenses and that is New Life's highest expense. You will hear, in Founder Mary Beckenham's voice, that the impact is huge!!! Here's a special video clip, made by Mary, Jessica & Catherine, just for you!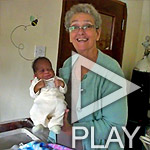 And here's a 1 minute video story of baby Jimmy, a recent arrival at New Life. He arrived in much better condition than most.
Thailand Follow-Up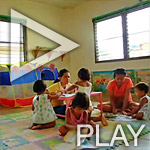 Mercy International has been building a 3rd Children's village in Northwest Thailand. The new village is currently home to 9 children and they will slowly grow to around 100. In October 2008, PFO donations were used to furnish one entire home in the village. Here's a video clip of the village and home that were funded.

Fall Fundraiser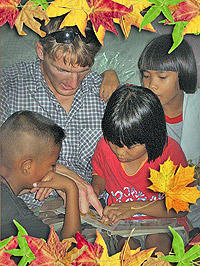 PFO is now collecting funds to provide a library for 39 children at Mercy International's Ban Meata Children's Village in Khon Kaen, (NE) Thailand. My husband Casey and I visited these children last year and they had us read and reread a very limited selection of children's books. It will cost $4000 to fund shelves and books for these children. All donations will be used towards this effort until it is funded.
Upon completion of this project, we will be using funds to purchase equipment for an agricultural project at the newest children's village in Phrae, enabling them to grow rice, vegetables and fruit trees, to feed the children as well as to sell and create income to help cover other needs.
From left to right are Art, Casey, Nok and Sai. Nok lost both parents at a very young age and wandered the streets until her elderly blind grandmother finally brought her to Mercy, where she is thriving and attending a Christian school.
Below are most of the children who will benefit from the library.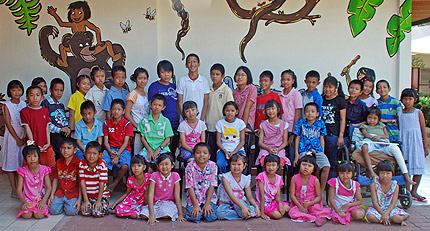 Hope Run & Walk - January 29, 2011

Marshall Partners, please prayerfully consider if you can help in one of the following areas:
EVENT DIRECTOR
(or two Co-Directors)
We have prepared a very thorough guide for this position and really need help in this area. It would enable the work of PFO to expand in new directions.
SPONSORS - Please sign up at www.hoperun.org or let me know asap to ensure your name/company is on the promotional materials and to help us budget for the 2011 event.
VOLUNTEER COORDINATOR – This would be an enormous help and is a matter of filling names into a spread sheet.
On Behalf of Orphans,

Sally Allred Lockett <><
Founder/Director, Portion for Orphans
www.portionfororphans.org