8th Annual Hope Run & Walk Follow-Up

Thank you to everyone who participated in or supported the 8th Annual Hope Run & Walk that took place on January 29 in Marshall, Texas! Here is a quick summary of the event:
257 Participants
Over 40 AMAZING volunteers!!!
Sunny and 70º in January!
Overall winners were: Jonathan Tijerina (17:22) and Natalie Bach (22:05). That's a new course record for the guys!
Results of the 118 runners are posted at hoperun.org
Here's a link to some pictures of the event!
$5,138.25 was raised on race day, followed by additional donations after the event!!!
100% of these funds will benefit the children at organizations profiled below:
Mercy International
Mercy International (www.mercy-international.com) is a Christian organization in Thailand that currently oversees 145 children in their three children's villages across Northern Thailand. Some past projects that PFO has funded for these children include: food, school fees, Bibles, a library, and the furnishing of one home.
New Life Home Trust
New Life Home Trust, Kenya www.newlifehometrust.org currently oversees 156 of the most vulnerable children in Kenya. PFO is the only organization that helps cover the medical expenses of these babies, most of whom arrive barely clinging to life. New Life has admitted a total of 1,112 babies, 780 now have foster or adoptive families.
View a short video of Mary, the Founding Director of New Life, Kenya, answering the question: "How do funds from Portion for Orphans help you in your work?"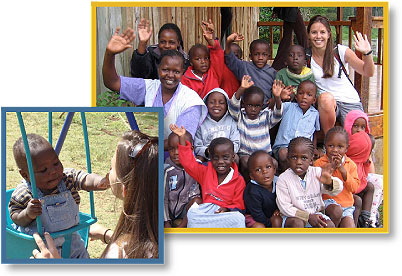 Year-End Financial Report
In 2010, you enabled Portion for Orphans to provide $65,712 to benefit orphans in China, Thailand, Nepal and India. These funds were used to support medical, educational and developmental programs, as well as to improve orphanage facilities.
100% of your donations to Portion for Orphans go directly to meet the needs of orphans, unless you specifically designate them to cover travel or administrative expenses.
In 2010, Portion for Orphans' travel and administrative expenses amounted to $3,303 and were paid for by donations specifically designated for these purposes.
The following graphs illustrate how Portion for Orphans used your donations in 2010. Thank you for giving your portion to orphans and enabling Portion for Orphans to help hundreds of children around the world!
Children's Programs By Type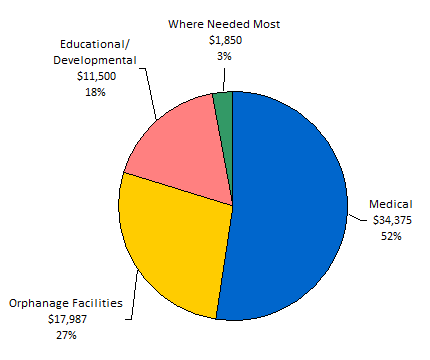 Children's Programs By Country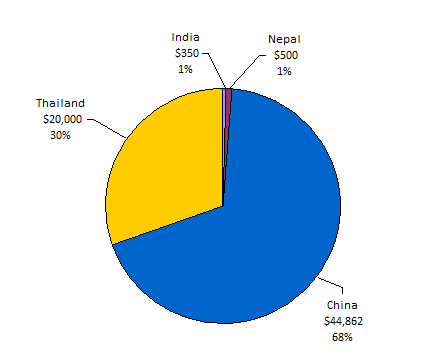 For additional details about the impact of your donations in 2010, please read the January 14, 2011 issue of the Portion for Orphans Newsletter.
Prayer Requests
Please pray over the directors of the centers we serve, their faith, health, energy, wisdom, etc. Each are serving in a foreign nation far from home and family, some even battling illness yet still serving God by taking care of children.
Dr. Joyce and Robin Hill in China
Mary and Clive Beckenham in Kenya
Rob and Sharon Dunk in Thailand
On Behalf of Orphans,

Sally Allred Lockett <><
Founder/Director, Portion for Orphans
www.portionfororphans.org