China Follow-Up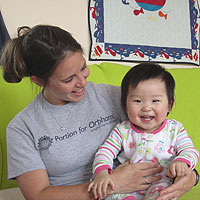 The second week of April, I had the privilege to visit New Hope Foundation in China. New Hope, founded by a doctor from Malaysia and her husband from the UK, has founded 5 medical centers for infant orphans with medical needs who are not being treated in government run orphanages. I spent a week with Dr. Joyce, Robin, and all the staff and babies at the main center near Beijing and also visited one of their satellite homes in ZhengZhou, South of Beijing, where PFO recently funded the renovation of two new areas for 18 sick babies.
As you saw in the previous PFO Update, PFO donors funded 18 cleft lip surgeries for babies at New Hope Foundation in 2010. Many have been adopted and many others are in satellite homes in China that I was not able to visit on this trip. A few are still in Beijing and I was able to spend time with them and capture some pictures and video of these little ones for you.
Chun Xiao Yu
Sun Li (Johanna Kate)
Hu San Ping
Guo Ya Ping (Rhys)
In the Fall of 2010, various donors and a number of fundraisers in Stuttgart, Germany were used to renovate the area for 18 more babies at New Hope in Zhengzhou. New Hope was invited to turn one floor of a government orphanage into a medical center for the children who otherwise were not considered treatable. We got to walk through the other floors, and the difference is night and day. Children who otherwise would not be, are being treated! Here's a look at the rooms and sick babies for whom your donations are providing a beautiful, loving, and medically equipped home.
The Elephant Room:
The Snow White Room:
Last Clip … Dr. Martin has recently joined Dr. Joyce and taken over much of the medical work in the main center in Beijing. Here is a clip is Dr. Martin repairing the legs of a child born with club feet. They massage and cast the legs more and more into the correct position over time so that the ankles straighten out, enabling the children to walk. Watch video clip.
Mops Presentation/Offering – A CHALLENGE!
Recently, I was invited to share about PFO with a local group called MOPS, Mothers of Preschoolers. The group of 40 or so ladies was so encouraged to see what we, as a team, are doing for orphans around the world. They gave a very generous donation and many signed up to receive our updates. If you would like to share about PFO with any group that you're involved in, please let us know. We'll either send a representative or send you the tools you need in order to share. Proverbs 31:8-9 encourages us to, "Speak up for those who cannot speak for themselves … defend the rights of the poor and needy." This is an easy way to respond. It takes $2 to feed a child in Thailand for one day, so every effort will make a difference even if it starts out very small.

With summer around the corner, so are opportunities for lemonade stands with the kids and potential vacation Bible school fundraisers! There are many fun ways to help others and at the same time teach your own. Let us know if we can be of help by providing brochures or a promotional DVD.
European Wide PWOC Fundraiser Kick-Off
The European Wide PWOC Fundraiser Kick-Off is on Tuesday, May 31st. This is a tremendous honor for Portion for Orphans. We were chosen by military chapel representatives from all over Europe to be the recipients of this year's fundraising efforts. Please pray over this opportunity to "…him who is able to do immeasurably more than all we ask or imagine, according to his power that is at work within us, to him be glory…" Ephesians 3:19-20

Thank You for your partnership!


Sally Allred Lockett <><
Founder/Director, Portion for Orphans
www.portionfororphans.org