Dear PFO Partners,
Soon you will be receiving a 2011 Year-in-Review Update, but for now we have a couple of announcements.
Hope Run & Walk 2012
Please note that we have decided, from now on, to hold the Annual Hope Run & Walk a bit closer to Spring … and warm weather!!! That means you have a couple more months to train and enlist others to join us.

Please consider how you might encourage others to take part.
If you are interested in serving as a sponsor or a volunteer, please sign up at www.hoperun.org. Sponsors who sign up prior to March 1st will be listed on our t-shirts.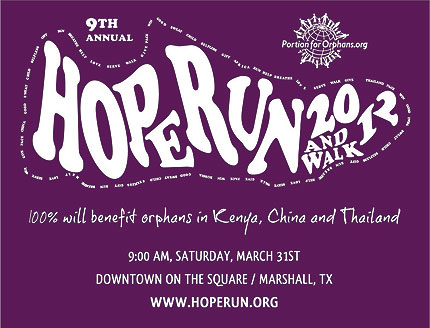 Brand new PFO DVD!!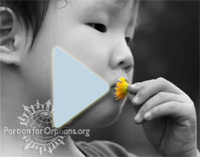 We have a brand new 7 minute promotional DVD that summarizes the work of PFO, the Biblical foundation, and the orphanages that we serve. Enjoy seeing what your generosity is enabling! In order to maintain the simplicity of PFO, which allows 100% of funds to directly benefit orphans rather than advertising and fundraising, I'd like to ask each of you to prayerfully consider how you can help us grow. How can you personally respond to Proverbs 31:9: "Open your mouth … and plead the cause of the poor and needy." PFO serves as a bridge between over 600 orphans and the PFO family. We are including the link to the new DVD here, how can you help share it?
http://youtu.be/z8iNNOFDg3E

Prayer Requests
Dr. Joyce, Director of New Hope China, who is currently seeing a specialist in the U.S.
The construction of a brand new children's village in Khon Kaen, Thailand! Builders from all over the world have gathered to build an incredible new home.
On behalf of orphans,

Sally Allred Lockett <><
Founder/Director, Portion for Orphans
www.portionfororphans.org