Thank You!
Happy Thanksgiving, and THANK YOU for helping us to bless some very special children. Here is a 4 ½ minute video made solely to thank and bless all PFO partners, whether you are in Texas, Colorado, Europe, Japan, or South Africa … THANK YOU!!! Please take a look at the difference your generosity is making.
Huge Hope Run & Walk News
Mark your calendars!!! The 10th Annual Hope Run & Walk will be held on April 20th, 2013 at 8am. It's going to be the best event yet, by far!!! We are adding a 10k run, revising the 5k run and 2m walk, and having Sports Spectrum run the event, making it a much more professional race with chip timing and computerized results. This is due primarily to the INCREDIBLE CONTINOUS support of our sponsors to ensure that 100% of funds raised will still be used to directly meet the needs of over 600 orphans. The sooner we have committed sponsors, the better the event will be!! Please contact me at sally@portionfororphans.org if you are interested in being either a Gold Sponsor $500 or a Silver Sponsor $250.
Recent Needs Met
KENYA
$10,000 was recently sent to Kenya to help cover the overall medical expenses of abandoned infants, more and more of whom are being rescued every month! Most of these children arrive barely clinging to life and your gifts literally provide what is necessary to save them and give them the chance of being adopted! If you'd like to learn about New Life, they are on Facebook!! Just search New Life Home Trust – Kenya.
Have you ever dreamt of visiting Kenya? Going on safari? Dipping your toes in the Indian Ocean? And serving in one of our children's homes? Then check out New Life's preferred travel partner: I Want To Help. Maybe now is the time to begin making your dreams a reality? (Please also let me know if you're going!)
CHINA
$10,000 has been sent to New Hope Foundation, China to provide a 4-month supply of milk powder and diapers to 60 orphans who are receiving medical attention.

THAILAND
$10,000 was sent to meet various needs at the 3 Mercy International Children's Villages in Thailand:
$4,000 was sent to Phrae, NW Thailand

$900 to purchase a Bible in Felt Teaching Curriculum for children
$,2350 is being used to furnish their newest home with a refrigerator, sink, benches, kitchen table, water cooler, 3 bean bag chairs, and more beds.
$250 for fruit trees
$500 for a chicken run and pen, chickens, feed, etc.

$4,000 was sent to Petchabun

$2,000 is being used to purchase new clothes for 95 children
$2,000 to purchase 8,000 Fish Fingerlings (Nile Tilapia and Asian Catfish), 8 months of fish food, lime and fertilizer.

$2,000 was sent to Khon Kaen

This was used to purchase construction materials for a home in a new children's village and to install a gyprock ceiling.
Stuttgart, Germany VBS
In July, 210 kids and 106 volunteers took part in a Vacation Bible School program in Stuttgart, Germany. They utilized our new 4-day DVD series created specifically for VBS programs and raised $4,552!!!! What an incredible way to teach children about God's love and the importance of helping others. If your VBS program is interested in fundraising to help orphans, please contact me at sally@portionfororphans.org.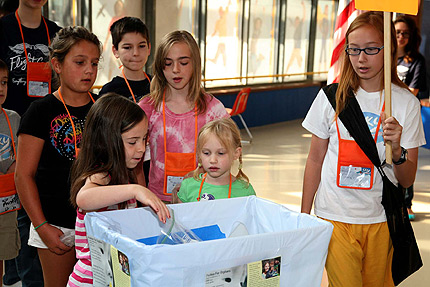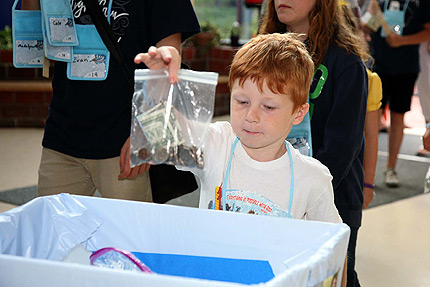 Prayer Requests
Please pray for Kristah & Lucas Kitchen as they prepare to visit the children's villages in Thailand in January. They will be creating a promotional DVD for Mercy International. Please pray for a smooth trip and opportunities for them to share the gospel and encourage the kids in their spiritual growth.
Have a wonderful Thanksgiving!

Sally Allred Lockett <><
Founder/Director, Portion for Orphans
www.portionfororphans.org