Here is a look at 2014: the blessings that Portion for Orphans has been able to orchestrate, trips taken, a financial report, upcoming changes within the ministry, and a challenge for 2015. Your generosity is healing orphans – their bodies, their hearts and even their faith in the truth that God is good!

$10,000 sent to Kenya for medical expenses
New Life Home Trust, PFO's partner organization in Kenya, runs six medically equipped homes across the nation that rescue abandoned infants ranging from 0-3 months old, with a priority given to those who are seriously ill and/or HIV positive. As of November, 58 children have been rescued in 2014, bringing the total number of children rescued to 1,559. Co-Founder, Mary Beckenham, stated that a number of the babies rescued in 2014 would not have survived without the medication and operations provided by PFO funds. Some of these babies were rescued from trash piles, others from the street, some were premature; all were malnourished and in need of antibiotics and incubator care. Others have needed operations. This little girl, Grace, has Pulmonary Stenosis, a malfunction of the valves connecting the lungs and heart. In 2015, she should be strong enough to go for a valvuloplasty, when a catheter is threaded through a vein to the heart where a balloon is used to open a stiff valve. This is one among many procedures that is possible due to PFO funds.
$20,000 sent to China for medical expenses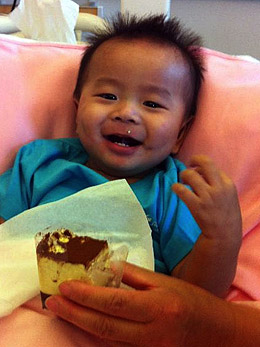 $10,000 will help open a new medical facility for orphans in Nan Yang, China. New Hope Foundation, PFO's partner organization in China, exists to provide medical treatment for orphaned children from all regions of China. They accomplish this through 5 current medical treatment homes and they are currently renovating and setting up a 6th center, which will begin admitting sick orphans for medical treatment in 2015.
The additional $10,000 was sent to help cover medical expenses for Xiao Zhuo, this little boy who was diagnosed with congenital intestinal obstruction in April 2014. Xiao has now undergone three separate surgical procedures and is now slowly improving and being closely monitored by New Hope's Dr. Steve.
$10,000 sent to Thailand to renovate teen boys' house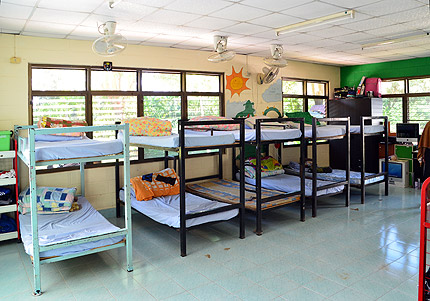 PFO's partner organization in Thailand, Mercy International, has founded 3 children's villages across Northern Thailand. Mercy exists to serve orphans, with a focus on abandoned children, those orphaned by HIV (who by law in Thailand must be housed separately) and those who are at risk of being exploited. Mercy will use PFO funds to renovate these current quarters for the boys who are 14-17 to turn a rather institutionalized set-up into a more dorm-like environment, with only two boys per room.
Video Produced for New Hope Foundation
In March 2014, PFO Representatives and videographers, Lucas and Kristah Kitchen, traveled to China in order to visit New Hope Foundation. They created a 5-minute video to help share about the work of New Hope. You can view the video here or at www.portionfororphans.org.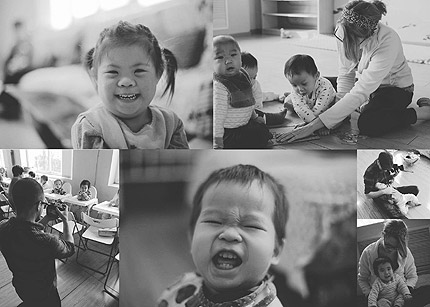 Lucas and Kristah shared, "We are so thankful for the time we got to spend in China at New Hope Foundation. After just one hour at the facility in Beijing, it was clear why Portion For Orphans has chosen to support this foundation. Each baby's story we heard started out so sad, but it's clear that New Hope Foundation is doing everything they can to change it to one of joy and hope."
Financial Report
Funds given to Portion for Orphans in 2014 for children's programs totaled $30,435.80. The total distributed towards the needs of orphans was $40,000. Many large donations received at the very end of 2013 were distributed in 2014, which enabled us to send quite a bit more to help orphans than we raised in 2014. $415 was received for administrative purposes in 2014, but a previous balance allowed for a total of $8,454.13 to be used to cover administrative and travel expenses, such as flights and fundraising expenses, during 2014. As always, 100% of your gifts directly benefit orphans unless you designate them be used towards administrative and trip expenses.
Organizational Changes at PFO
Kristi (Allred) Garber, who has served as PFO's Bookeeper over the last few years, has recently stepped down. We would like to thank her for her time as well as to introduce and thank Marva Mitchell for stepping in as PFO's new volunteer bookkeeper. Also, I (Sally Lockett), in an effort to focus more on my family, will no longer be organizing fundraising events, such as the Hope Run, which we've held annually in Texas for 11 years now. PFO will continue to accept donations and supporters are encouraged to organize fundraising events as they are able.
2015 Challenge
This letter is going out to approximately 500 people who have given to PFO over the years. We'd like to challenge each of you to consider making an annual gift of $100 or more. That's $8.33/month and would enable PFO to distribute $50,000 towards meeting the needs of orphans in 2015. Can you set aside a $100 portion for orphans this year?
Stay Tuned …
In 2015, PFO's new bookkeeper Marva Mitchell and a team of PFO supporters in Marshall, TX will kick off a month long, online fundraiser: Scavenging for Hope.

Thank you for partnering with us in this effort!

Sincerely,


Sally Lockett
Founder/Director, Portion for Orphans